The fundament of successful strawberry cultivation depends on the reliability of the plants.  Cultivating healthy and productive strawberry plants, it sounds so simple, but it is a serious business what – at Aardbei Extra – keeps us busy every day.
Aardbei Extra is a family business with passion for excellent strawberry plants.
It all starts with good communication and listening to our customer, choosing the right varieties and plant types. A good planning, healthy soil, well thought cultivation systems, hygiene protocols, more than 50 years of experience, passion, but most of all, a fantastic team of employees is what makes the plants of Aardbei Extra!
For every cultivation system, small or big, we can product a suitable plant. We would love to take care of the cultivation of your strawberry plants!

Flair (early)
Flair is an early variety with a good flavor. Flair is not susceptible to root diseases and is less sensitive for powdery mildew. The yield is a bit less, but the earliness in combination with a high sales price, early in the season makes it a very interesting variety.
Exceptional early
Very good flavor
Fresh colored fruit
Resistant to root diseases and powdery mildew
Excellently suited for cultivation in tunnels

Elsanta (medium)
Elsanta is a medium early variety with a good flavor. The variety is moderate sensitive to root diseases and powdery mildew. Elsanta is suitable for all types of cultivation systems, like greenhouses, open field, substrate and tunnel cultivation.
Firm fruits with very good flavor and strawberry aroma
1 to 2 days earlier than Sonata
High to very high productivity
Allrounder: suitable for al types of cultivation systems, both indoor as outdoor and early to late cultivation

Sonata (medium early)
Sonata is a medium early variety,  a few days later than Elsanta. It has a really good flavor. The variety is less sensitive to mildew, but a little more sensitive to root diseases.
The beautiful shape of the fruit is exceptional and the number of misshaped fruits is very low.
The firmness of the fruits can be a little less in comparison to Elsanta, especially when growing strawberries in open field during hot weather conditions.

Limalexia (medium)
Limalexia is a new variety which stands out with it's beautiful big fruits, really good flavor and high yields. When fertilized well, the variety is less sensitive to powdery mildew. With hot weather, the Limalexia plant can maintain fruit size throughout the growing season.
Limalexia is a strong grower and because of this, it is less sensitive to root diseases. The strong roots makes sure that the plant experiences less stress.
The characteristics of this allrounder, makes the Limalexia even a very good fit for summer cultivation in a greenhouse!
Good flavor
Big fruits
High yield
Strong plants

Elegance (medium)
Elegance is a medium early variety which is very productive. It can be a little bit more sensitive to powdery mildew. The fruit quality is excellent with a high percentage of class 1 fruits, a very good fruit size and firmness. It shows a very good shelf life. Also Elegance has shown a very good tolerance to rain. The variety is suitable for different types of cultivation systems.
Very productive
Excellent fruits quality
Great tolerance to rain
The fruits are firm and juicy
Very good shelf life
Suitable for every cultivation system
Ingenious cultivation system
Since 2018 the stek-plants (tips) at Aardbei Extra are being cultivated on a unique table top system.
The motherplants are cultivated in troghs, on gutters. Herewith the young tips partially develop themselves lying on a horizontal netting and  partly hanging in the air. So the plants will never get in contact with the soil. Therefore root diseases are eliminated to a minimum! The tips become stronger and more vital. With this method we can grow more plants on a smaller area, which means a more efficient use of fertilizers.
The harvest of the tips occurs on site with the help of harvest trolleys which hover above the plants. Because of this, employees can stay straight up during the job.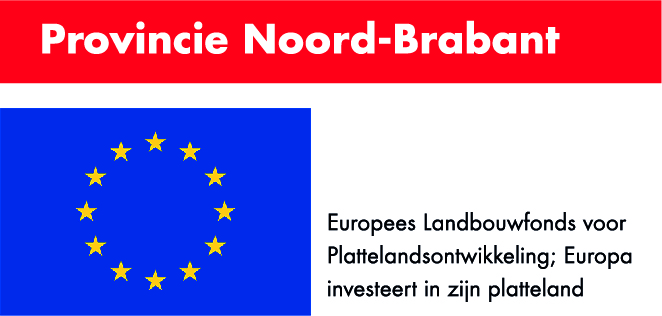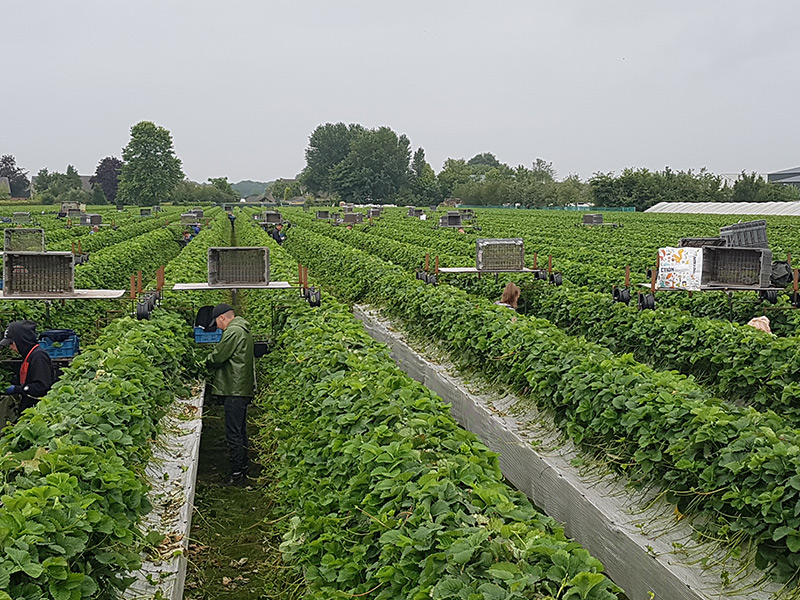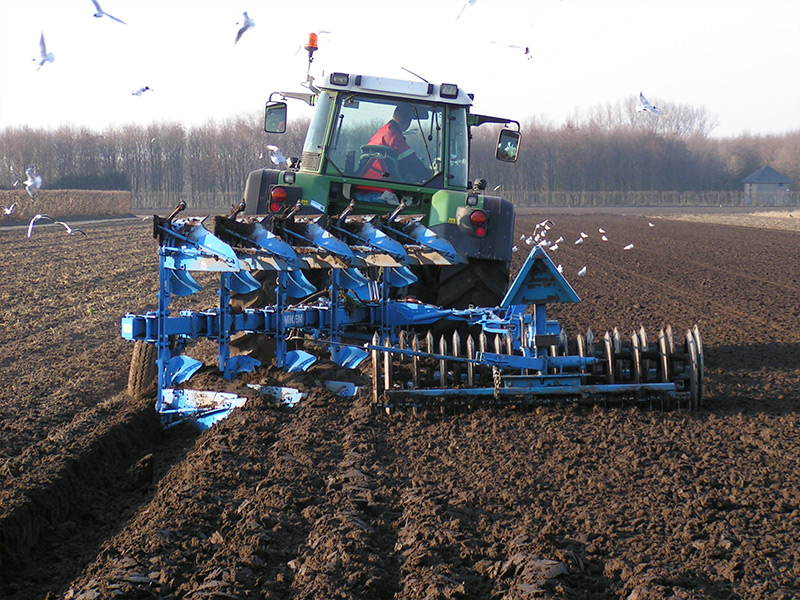 The cultivation of the fresh bare rooted strawberryplants, frigo plants and waitingbeds are still being cultivated in the open field. For this we have outstandingly beautiful sandy, well draining fields at our disposal.
By applying a wide crop rotation, use of Marigolds and exchanging our fields with farmers, we have sufficient supply of healthy plots.